Are you looking to elevate health and safety in your medical space or healthcare clinic? Our medical hygiene service can help. Within our medical range, we provide a certified system that allows our clients to operate beyond their required level of practice. It is important to keep medical hygiene practices at the highest standard in these high-pressure environments.
To streamline our services, we offer a monitoring system specifically tailored to suit each individual clinic. Contact Corporate Hygiene today to learn about our services and develop your unique hygiene solution.
Our Service
Our hygiene team pays close attention to high-touch areas in your clinic to eliminate bacteria. We offer both one-off cleans and a free monitoring system to place your clinic on for regular hygiene servicing.
Our medical hygiene service includes:
Commercial Metal First Aid Kit Supplies
Purell Instant Hand Sanitising Gel (Wall Mounted)
Purell Instant Hand Sanitising Gel (Travel Kit with Retractable Clip)
Purell Instant Hand Sanitising Gel (354ml Desktop Bottle)
Gojo Foam Hand Soap
Hand Medic Skin Conditioning Lotion
Digitalised Air Sanitiser – "Air San"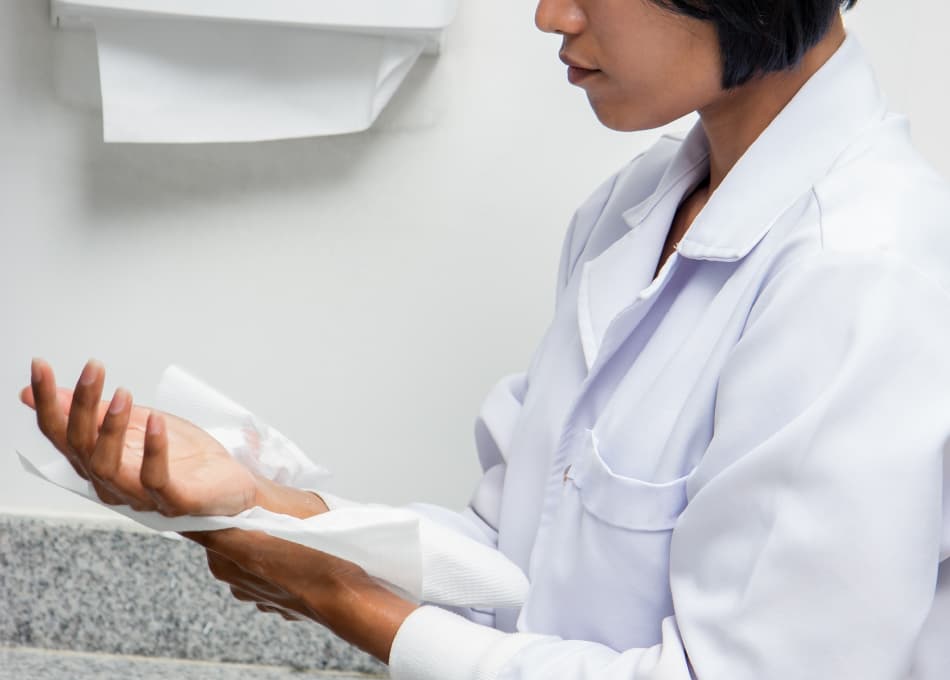 If your practice or clinic could benefit from our stress-free sanitisation service, get in touch with the team today to start developing your medical hygiene solution.
The Importance of Hygiene for Medical Spaces
Due to the nature of work that occurs in medical and clinical environments, proper hygiene practices are essential. Here are some key benefits your business can receive from working with Corporate Hygiene:
Infection Control
One of the main reasons to implement hygiene services in medical spaces is infection prevention and control. Proper cleaning and sterilisation of medical equipment, surfaces, and instruments reduce the risk of healthcare-associated infections (HAIs), which can impact patients and staff.
Staff & Patient Safety
Hygiene services help ensure the safety of staff and patients by minimising the risk of cross-contamination. Managing cross-contamination is particularly important in settings where patients may have compromised immune systems. It also reduces exposure to potentially harmful pathogens, leading to a healthier workforce.
Compliance with Regulations
Medical clinics must adhere to strict hygiene and sanitation regulations to maintain their licenses and certifications. Professional hygiene services make it easy for clinics to comply with these regulations, avoiding legal issues and fines.
See What Our Clients Say
Ingram Micro
"Corporate Hygiene has supplied and serviced Ingram Micro's hygiene needs since 2008. They're a business based on loyalty, trust, service, integrity and competitive pricing. Their staff are friendly, and professional, making our working relationship a pleasurable experience."
Turuki Health
"Corporate Hygiene Limited is our key supplier of hygiene products and have been with us since 2011. When brought on board to our organisation, they did a full audit of our hygiene requirements which resulted in more cost-effective products and a comprehensive hygiene regime in our clinic facilities and for our community workers. As a charitable Trust, these attributes have been much appreciated. Corporate Hygiene is an absolute delight to work with; the staff are always helpful and friendly. They have always provided timely service and have been proactive in keeping us up to date with products relevant to our business. Corporate Hygiene Limited are a trustworthy business and have always gone the extra mile."
Choose Corporate Hygiene's Medical Hygiene Services
All businesses have regulations regarding cleaning and maintenance. Hospitals, clinics, and other medical spaces have uniquely strict standards for the health and safety of patients. Every medical centre has a legal duty to provide the highest levels of cleanliness and healthcare hygiene services, and that is exactly what we deliver at Corporate Hygiene.
From medical centres, dental offices, and urgent care centres to clinics, physicians' offices, medical offices, exam rooms, and the like, we have the proper infection prevention cleaning protocols that emphasise risk reduction and guarantee patient and staff satisfaction.