Sanitiser Stand – Hand Sanitising Stations
Sanitiser Stands
Part of managing a business is maintaining a hygienic workplace to keep your staff happy and healthy. Corporate Hygiene provides businesses with automatic sanitiser stands for long-term use to minimise the spread of germs between staff, clients, and other visitors. Businesses of any size can benefit from utilising our PURELL® sanitising stations in their space. Learn what we offer below and get in touch to see how Corporate Hygiene can help you.
Our Sanitising Stations
Available in white and graphite, our sanitiser stands fit seamlessly into any office or work environment.
More than ever, we are focused on hygiene and minimising the spread of germs. Access to sanitiser is key to keeping everybody safe. A sleek, hands-free dispenser is ideal for maintaining a healthy space, that still feels comfortable.
Innovation comes into full effect when it's time for a refill. The technology that has gone into designing the stations creates "Energy-on-the-Refill". Each refill includes an energy source to keep the station powered until the sanitiser runs out.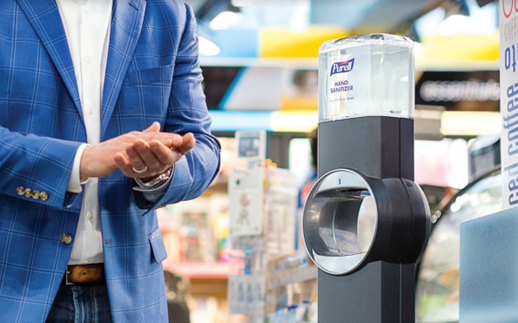 Benefits of Our Sanitiser Stands
The clever design of the sanitiser stand allows for a mess-free experience. There's no need to worry about sanitiser ending up on the office floor, creating a hazard. For easy cleaning, any excess sanitiser falls into a removable tray.
The lightweight and slim build make our PURELL® sanitiser stands easy to move for cleaning or relocation. PURELL® has an enormous reputation for producing high-quality and reliable sanitising equipment. Refills are easy to replace and contain 1200mL of nourishing sanitiser. The formula is filled with active ingredients to kill germs and bacteria while remaining gentle on the skin.
Explore Our Cleaning Services
Corporate Hygiene provides businesses with an extensive range of cleaning and hygiene services. From providing long-term hygiene solutions to keeping the office tidy, our team handles several areas of cleaning and hygiene. Appropriate hygiene equipment is crucial to keeping corporate, commercial, or medical spaces safe.
If your business needs a hand staying on top of the cleaning side of things, we offer a wide range of services that make it easy to maintain your workspace. Contact the Corporate Hygiene team to learn more about how our products and services can help your business.